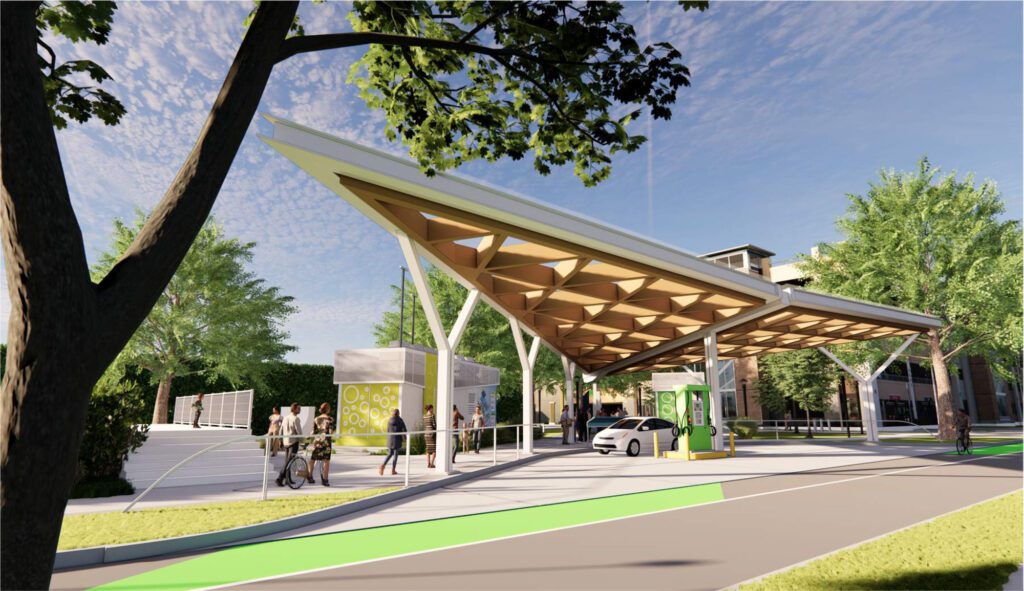 The project will transform a city block into a smart energy district through the addition of a solar array, a hydrogen refuelling station for light- and heavy-duty vehicles—B.C.'s first—and intelligent charging infrastructure for electric vehicles.
What if there was a way to integrate all our disparate urban infrastructure systems to create a cohesive, comprehensive, and connected platform driven by low- or no-carbon technologies?
Mérida Labs, an energy innovation hub located at UBC and driven by Applied Science researchers, has secured $23 million in public and private funding to convert a city-sized block on the UBC campus into a smart energy district.
The plan is to build an advanced solar array atop a UBC parking structure, next to a sub-station at the corner of Wesbrook Mall and Thunderbird Boulevard. The parkade will be retrofitted with bi-directional electric vehicle charging stations, enabling electricity to flow from the structure into vehicles and from vehicles back into the grid. Reversible EV charging highlights how buildings and cars could evolve from passive assets that sit unused for most of the day, to active participants in smart energy storage transactions.
Additional electricity will be directed to an electrolyzer to split water into hydrogen and oxygen, supplying the refuelling station for hydrogen fuel cell vehicles. The hydrogen produced by this process is 100 percent renewable or "green hydrogen". A secure 5G wireless technology platform will connect the system's components to each other and to other on-campus systems and assets, for optimal productivity and efficiency.
"Hydrogen and clean electricity provide a clear path to sustainable, low-carbon economies for Canada and the world." says project lead Dr. Walter Mérida, a professor of mechanical engineering who leads Méridalabs. "When combined with digital technologies, they can enable economic growth as transportation, telecommunications and civil infrastructures become smart and interconnected."
It's a practical, actionable model for the city of the future. And it's just around the corner.